Introduction
This case study shows how and why Spillers Petfoods acquired Quaker European Petfoods for £465m in April 1995 to create Europe's second largest petfood manufacturer.
Spillers + Quaker European Petfoods = Europe's No.2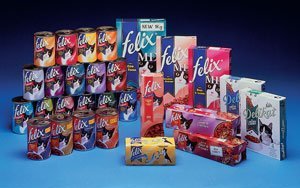 This was an important strategic move for Dalgety which like many other key UK companies has realised the importance of building up a branded business with a global dimension. Companies who are inward looking and simply rely on their own domestic market lose market share to others who think globally. Today, huge markets are opening up within the European Union, within Pacific Rim countries, within Eastern Europe and within other trading blocs. The intelligent company therefore identifies its best lines and then works out how to develop these lines in larger areas, whilst building on the synergy of acquiring complementary lines which already exist in overseas markets. As we move towards the millennium we are seeing the development on a global scale of mass markets which can be reached quickly by large scale producers. The quantities of products such as Coca-Cola and Bic Biros which can be sold throughout the world are vast. The growth of global sales is rising year by year. For example, it is interesting to note that when the Rolling Stones brought out a new disc in 1994, it quickly reached a much higher global sales figure than any of their 1960s and early 1970s records had done at the height of their popularity in the UK and America.
What is branding?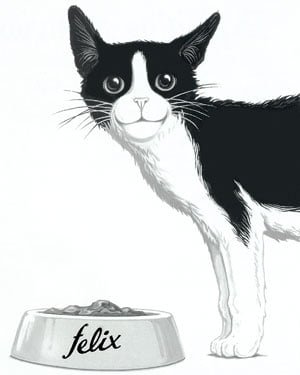 A brand is a particular product or characteristic that identifies a particular producer. Many mass-produced goods are almost identical. For example, most washing powders are very similar, as are different types of margarines. These goods tend to be produced by two or three large companies who encourage sales by creating a brand or marketing image which differentiates the products in the minds of the consumers.
The business of creating a brand is a particularly important function of marketing. Often people will buy the brand name as much as the product itself. You will see people in supermarkets pick up an item (which they have not seen before) and say, "this must be good because it is made by such a company."
Large organisations know the value of the power of the brand. They will therefore fight very hard to raise the status of their brands and be determined that nothing will spoil this power. The brand itself will often be recognisable by a logo or trade mark. For example, when you look at cereal packets you will be able to see the Kellogg's logo which identifies this brand; when you are looking for toothpaste you will be able to identify products from Colgate.
Organisations seek to create a portfolio of individual products which support the image of the brand. Well-known companies will therefore emphasise quality throughout the organisation. They will be very careful about which products to add to the portfolio. For example, organisations with up-market images will be reluctant to merge with or acquire companies producing down-market products.
A brand which is held in high esteem is worth a considerable amount of money to a company. There is a well-known saying in business that, "an organisation can afford to divest itself of all of its other assets, but not its brand image."
The importance of the European market
The European market is very important to many UK companies. Lifestyles and buying patterns in many European countries have similarities with those in the UK. Today, there can be no doubt that UK trade is closely tied to the EU, as over half of our exports by value go to EU countries. The bulk of the EU's trade with other countries is with the Western industrialised countries (about 60%), being made up mainly of manufactured products (64% of imports and 83% of exports in 1996).
Taking a strategic direction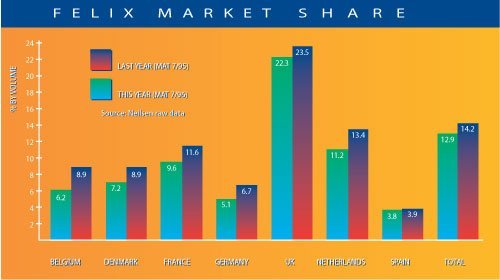 In 1996 Dalgety put into effect a major strategic decision by focusing a key part of its activities on European petfoods. An important move in this direction was for the company to divest itself of its Golden Wonder and Homepride food businesses in order to acquire Quaker European Petfoods. In addition a rights issue was created to enable shareholders to put more capital into the business, which would as a result have the potential to yield much higher profit levels.
Spillers and Quaker have much to offer each other. Spillers was a major player in the UK but lacked a good continental presence, whilst Quaker had a well developed European operation. This provided the opportunity to convert two medium-sized businesses into one good strong company, capable of playing a leading role in an industry which had considerable growth potential.
The potential of the market
By creating a truly European branded business, Spillers is able to take advantage of a market which is currently growing at 2.5-3% per annum. In many of these European markets, there are clear demographic and lifestyle changes feeding the growth in petfoods. In order to meet this growth, Spillers is embarking on new product development programmes, and is well placed to capitalise on the growth potential of the European petfood markets.
Spiller's flagship brand "Felix" gives us an insight into how it is possible to maximise the benefits of European branding. The current Felix concept was conceived in 1989 in the UK, by creating a mischievous cat with whom pet owners would readily identify. The range was extended to seven varieties with an emphasis on high quality cat food. Felix was used in national newspaper advertising for three years before appearing on the television in the early 1990s.
Five years later Felix has surpassed any of the original predictions made. The brand is repeatedly found in the UK's list of top ten fastest growing brands, and its value. Its original range of "Chunks in Jelly" has been extended to include an even greater number of varieties, and has been joined by "Special Cuts Chunks in Gravy" in a variety of sizes, dry cat food Felix Mix and a number of premium products including a junior product for kittens.
Since 1988 Felix has achieved an increase in UK market share from 6% to over 25%. This performance is doubly impressive considering most other brands remained static or lost market share. There is strong potential for this performance to be repeated in other European markets. Felix has now come to play an increasingly important part in European Union markets, so that in 1996 it had around 14% of the market. The growth in market share in seven selected European Union countries is shown in the chart below.
Felix, as a concept, has Europe-wide relevance to cat owners and thus provides the focus for Spillers' European branding. However, Spillers has also been intelligent enough to create a marketing and production package tailored to the "differences" which exist depending on local conditions, traditions, cultures and preferences. The key to this has been to trust in the understanding that exists in local management structures. By learning from the experiences of other countries and combining that knowledge with localised insight into the pet food market, Felix will replicate its success throughout the Continent.
Growth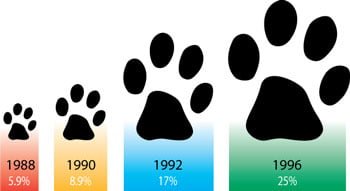 The challenge for Spillers now is to continue to support the growth of Felix, while identifying the key dog food brands that have potential to follow in its footsteps. The company needs to continue to support Felix, whilst at the same time establishing a place for other brands in the European market.
In order to do this successfully, Spillers has placed a heavy emphasis on marketing. The company feels that it is essential to understand the consumer; both those who buy and those who have yet to buy Spillers brands. It has also set out to anticipate how the markets will develop and what competitors will do, particularly in the areas of new product development and marketing.
The popularity of certain products varies from country to country. For example, in Germany the dry dog food market is of much greater importance than in Italy. What differentiates companies bidding for European success is understanding how the demands of the Italian consumer differ from those in Spain, France and Germany and then providing the products that will satisfy those needs.
Commitment to technological excellence and the provision of highly palatable products provides the company with the platform it needs from which to launch new brands, create new sectors and grow the market share of the existing portfolio of products.
Retailers also differ across Europe, both in what they want from a company like Spillers and in what they need to support them in selling products to the consumer. By establishing a local focus, with local management responsibility, Spillers has set up a structure to provide the products and services which will guarantee support from the retail base.
Synergy for success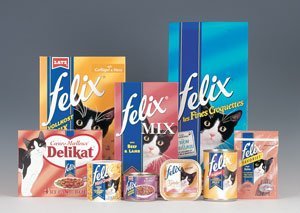 The Dalgety organisation is one which believes in the importance of synergy. In simple terms, synergy arises when the sum of the individual parts of an organisation adds up to more than those parts when acting alone.
In this case the effectiveness of Spillers Petfoods and Quaker European Petfoods (EPF) working together is far greater than would have been the case with the two individual firms working separately. Sometimes this is written in the following way:
1 + 1 = More than 2
By acquiring Quaker (EPF) it has been possible to create numerous synergies:
The acquisition provides considerable opportunity to reduce costs. For example, Quaker EPF had a number of inefficiencies in terms of its high overhead costs. By cutting out operations which were duplicated at Spillers it has been possible to make substantial cost reductions.
Simplifying the manufacturing and distribution process. At the time of the acquisition, Spillers Foods' average production cost per tonne of canned petfood was approximately 25% less than that of Quaker EFP. Greater efficiencies have been achieved by geographical reallocation of production, so that this takes place in the most efficient plants and as near as possible to actual markets.
Maximising marketing opportunities. Spillers and Quaker (EPF) have highly complementary products, technical competencies and distribution channels. It has, therefore, been possible to gain major benefits by transferring existing production to new markets as well as introducing new product and packaging formats.
It is expected that by the third year of ownership these benefits will amount to approximately £40 million and that over the first three years of ownership they will amount to approximately £70 million in total.
Conclusion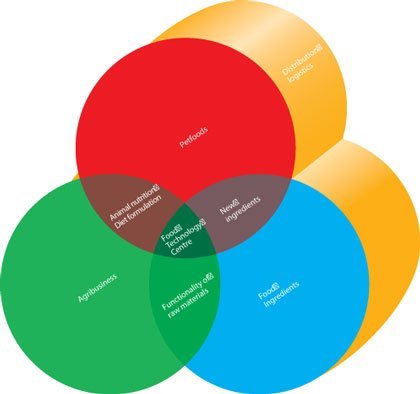 The move by Spillers into European branding of petfoods should be seen as an important part of the overall strategy of the Dalgety Group of focusing on its best lines, and then concentrating on strengthening and growing each of these chosen businesses.
The Group believes in the cross-fertilisation of skills while at the same time fostering technology to build a competitive edge. Concurrently, the Group will continue to search for new opportunities for its products and brands. A final component of this strategy is a preference to delegate as much responsibility and authority as possible to people nearest the customer. This case study highlights important aspects of this strategy. It has shown how:
Spillers has sought to take advantage of market opportunities in Europe by acquiring a key company in order to benefit from growth and resultant synergies.
Spillers has used Felix as a model for its European branding strategy in order to expand sales in key countries and to create brand loyalty.
Spillers has used decentralised decision making as a means of customising its European brands to meet the requirements of local consumers.
All of these branding changes have required the creation of a new organisational culture. It has been the job of the new team to build one business which is pan European. This has meant having people working together at different levels and empowering them. Collaboration, co-operation and cross-fertilisation of ideas are central to the new business and essential for a multinational organisation.
Dalgety | Creating a European branded business