Introduction
This case study focuses on Eversheds, one of the largest law firms in the world. It emphasises how Eversheds uses vision and values to support its brand and how this helps to emphasise that its services are focused on the customer.
In service industries customers want to be confident they are dealing with an organisation they can trust. They will also want to do business with an organisation who will look after their interests and help to solve any problems they may have. In the legal profession, such values are particularly important. Organisations need to understand how customers view their business, as well as how to provide them with the confidence they are making the right decision.
Eversheds started when a number of major regional firms merged with a London firm to create a national legal giant. Today, Eversheds is a major employer with more than 4,000 employees with 29 offices worldwide. To achieve this position, the firm changed the way it worked and rebranded itself to provide a service that differentiated it within the marketplace. This new brand was called 'Accountable Relationships'.
When developing corporate strategies organisations need to identify a direction they want to head in. One way of focusing this effort is to create a series of statements that help to show where it wants to go and how it intends to get there.
Eversheds has called these statements vision and values. It wanted its vision to be a broad statement underlying the mission of the organisation that staff could follow and clients could understand. The values are the beliefs that would support activities undertaken by those working for Eversheds and influence their everyday behaviour. The process of constructing these statements required extensive research.
Accountable Relationships through vision and values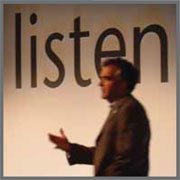 The re-branding exercise offered an opportunity for Eversheds to ensure it was delivering the service its clients needed. Prior to the exercise, the needs of the clients were being met in a variety of ways across the group of firms. It was important to understand which aspects of these approaches were working best and could be adapted for the new single organisation.
Examples of best practice were identified through consultation. This involved:
drawing upon existing information across the firm
bringing in outside consultants (Landor) to provide expertise in brand
using focus groups and face-to-face interviews with clients and staff.
Landor's research included:
Primary research - this involved first-hand research. Landor interviewed clients and staff using focus groups.
Secondary research - this is sometimes known as desk-research as it involves collecting information that is already available. Landor collected information about Eversheds' policies and practices.
Through this research the concept of Accountable Relationships was developed and implemented across the firm.
It involved two aspects:
Although the firm had always been client focused, it would now focus on providing the right team for the client and one that really understood the client business.
Realising the importance clients put on controlling their legal costs, Eversheds would implement a system where every piece of work was scoped and planned in advance to allow for cost predictability, accurate timescales and focus on the best outcome for the client.
Accountable Relationships has enabled Eversheds to provide a unique service which provided a genuine long-term commitment to its clients and offered them control of their legal spend and predictability of outcome.
Developing vision and values
In service industries, an organisation can develop differentiation from its competitors by understanding what their customers really want and then providing it. However, customer expectations are sometimes difficult to understand and that's why Eversheds felt the need to invest heavily in research before redeveloping its brand.
By developing Accountable Relationships, Eversheds put clients at the heart of what it wanted to do. It has invested in a process of Client Relationship Management that builds a bond with its clients. This helps clients feel confident with the service being provided and encourage them to return if they require other legal services.
In order to deliver Accountable Relationships, staff behaviour had to be focused on the same goals. This is why Eversheds developed its vision and values.
Research led to Eversheds' vision which is: "To be a great place to work and the most client centred international law firm." This was the overall goal of everyone at the firm. The values are designed to show how Eversheds would achieve it's goal on an everyday level - the beliefs that underpin how it operates.
Eversheds created six values from its research, which are:
'Client centred - we will look after our clients' interests as if they were our own. We will deliver levels of service and build relationships that are second to none.
Straightforward - we will be straightforward, open and honest in all our dealings and we will act with utmost integrity.
Teamwork - we will place the firm's interests ahead of the agenda of any individual. We will act as one firm, recognising the different important contributions we each make.
Mutual respect - we will take care of each other and we will treat everyone with respect, fairness and courtesy. We will recognise the need to balance personal and business lives.
Accountability - we will take responsibility for problems and strive to always find solutions to the issues faced by our clients and colleagues.
Continuous improvement - we will embrace change and challenge the status quo, always seeking to find better ways of doing things.'
Vision and values helps employees to understand that relationships are the centre of Eversheds' approach to doing business.
Market startegy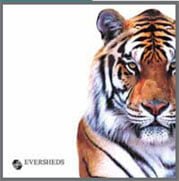 A market strategy is a plan that provides Eversheds with the means and direction to deliver its brand for its clients, using vision and values as its driving force. The plan helped to:
Identify what products and services Eversheds can provide for its clients.
Change the way staff at Eversheds work, taking into account the values of the business.
Create business models that provide the basis for a new way of working.
Be very clear on what clients it wants to work for.
Provide a consistent way of working to ensure the client knows what they are likely to experience during every contact with the firm.
This helps to strengthen client relationships.
'Networked Law' - The Eversheds delivery solution
Rather than be gradually pushed into changing work practices, Eversheds instigated an innovative way of working called 'Networked Law', which is available at every office. This involves:
Centres of excellence to bring together areas of expertise.
Every regional office will provide core advice that is consistent across the group. Eversheds lets clients know costs and deliverables in advance putting the client in control.
Providing a flexible approach and cost structure to match client priorities.
Putting the right team together to fit client needs.
Offering specialist services at premium prices.
This means that Eversheds offers clients the best possible range of services, including the chance to economise on routine work. It helps the firm compete with both local and larger firms by drawing on its breadth of knowledge and expertise from its many offices.
Communicating values for staff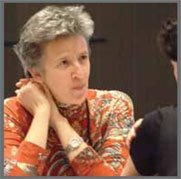 To make sure the Eversheds market strategy was effective, it was important that all staff understood the vision and learnt to share the values. This process was undertaken through internal communication.
Communication involves:
The message - this must be something everybody can understand
The medium - how the message is conveyed
The receiver - the person being targeted by the communication
Feedback - so the sender knows the communication has been effective.
Every organisation uses many different methods to communicate with its staff.
Face-to-face methods might include meetings, interviews and reviews or by using new methods such as video-conferencing. Written methods might include e-mails, reports, notice-boards and in-house magazines.
As Eversheds' offices are spread all over the world, a variety of techniques are used to communicate the vision and values. For example, face-to-face methods included:
annual general meetings open for all staff
roadshows
staff feedback directly to managers
team meetings
staff appraisals.
Written methods of communicating the vision and values included a range of published literature within the organisation, as well as the Eversheds website.
Conclusion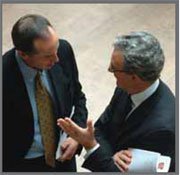 In the legal world clients return to do business again with organisations if their needs have been properly satisfied. The process of re-branding provided the opportunity for Eversheds to analyse what it was doing best, so that it could then develop a single vision and a series of values for the whole of the organisation. The vision and values were then used to underpin its market strategy.
In a service industry there is a very strong link between the quality of a service and the expectations of a client. If these expectations are met, and met well, customer relationships are enhanced and growth of business is more likely.
This case study illustrates how the creation of vision and values within a service sector business can be used to focus the direction of an organisation and, for Eversheds, supported the creation of Accountable Relationships. This process can then be used to position the organisation in a part of the market that provides it with a distinct advantage over competitors.
Eversheds | Developing vision and values to build a market strategy