asos.com is the UK's leading online fashion store for women and men. Launched in 2000, the online retailer targets fashion conscious 16-34 year olds. On asos.com there are 9,000 products available at any one time, with 450 new fashion items added every week. These include women"s fashion, menswear, accessories, jewellery and beauty products. asos.com attracts 3.3 million unique shoppers every month and has 1.8 million registered users.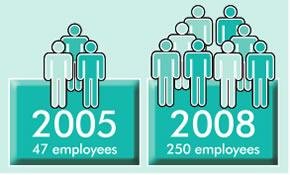 An online service of this scale requires a substantial background operation to fulfil orders and to provide customer service. Five years ago, asos.com had just 550 square metres of warehouse space. Today, to meet growing demand, asos.com now has 32,500 square metres of warehouse space equivalent in area to nearly five football pitches. In April 2005, asos.com employed 47 permanent staff. By February 2008, it had 250 employees. These human and physical resources are needed to meet rapidly increasing demand. Sales increased by 90% year on year for the 12 months to 31st March 2008. In April 2008, there was a daily average of 220,000 unique visitors to the asos.com website. The growth in sales translates into profit. Group profit is likely to be in excess of £7 million.
Ownership and management structure
asos.com is a public limited company (plc). This means that the business is owned by shareholders and that its shares can be purchased by the general public. asos.com shares are traded on the Alternative Investment Market (AIM), which is part of the London Stock Exchange.
Joining AIM has several advantages for a growing company such as asos.com. AIM-listed companies do not need to comply with the strict rules that must be followed by businesses listed on the main London stock market. They do not need to meet any size threshold, either in terms of market capitalisation or the numbers of shares that they issue. This means it is easier and cheaper to obtain an AIM listing. It provides smaller companies with a chance to raise capital through the sale of shares. This capital can be used to finance growth.