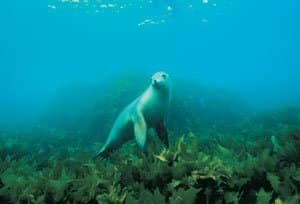 All organisations must serve the needs of their customers. These needs change over time, making it necessary for business organisations to adapt their existing product portfolios continually. This case study focuses on the way in which the Family Assurance Friendly Society introduced new ethical criteria into an existing Unit Trust in response to demand from investors.
The term 'investor' refers to people whose expenditure is less than their income and therefore, they would like to see their surplus money grow by investing it. One of the prime considerations when choosing an investment is the potential risk and the rate of return. Clearly a good investment will provide a 'good return' compared with other investments. However, the return is not the only consideration.
Increasingly, investors are asking 'What will you do with the money?' when they invest in an organisation. All too often, media coverage has revealed organisations engaging in business activities of which some people disapprove - e.g. supporting harsh military regimes, testing products on animals, polluting the environment and so on. Investors are increasingly moving their money away from some traditional businesses to those supporting ethical principles.
This case study examines the recent launch of the Children's Ethical Trust which provides the opportunity for savings for young people to be put into ethical investments.
Family Assurance Friendly Society
The United Charities' Unit Trust was established in 1982 by Lord Rix of the Mencap City Foundation charity, with the aim of providing the charity's supporters with a means of investing money where the profits were given to the charity. Over the years, Mencap has been joined by a number of other charities - The Guide Dogs for the Blind, The Royal Society for the Protection of Birds, Action for Blind People and the Country Landowners' Association Charitable Trust.
The Unit Trust is managed by Family Assurance Friendly Society - the UK's largest tax exempt friendly society with over 600,000 members and £1.3 billion management funds. Established in 1975, the Society is a mutual organisation owned by its members. There is a clear synergy between charitable organisations, a mutual friendly society and ethical investment. In March 1996, the investment objectives of the fund were changed to incorporate ethical criteria and the Fund became The United Charities' Ethical Trust.
What is a friendly society?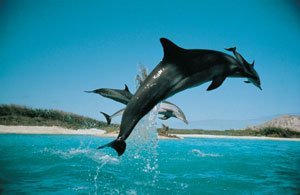 Prior to the establishment of the Welfare State in 1948, the only way ordinary voting people could provide protection for themselves against misfortune such as illness, accident or death, was by joining a friendly society. The friendly society movement actually dates back to the sixteenth century and today there are over 300 friendly societies in the UK representing the interests of over six million members. Nowadays, however, they tend to specialise in the provision of tax-free savings and protection policies.
Prior to the launch of the Children's Ethical Trust, Family Assurance Friendly Society had offered a number of investment opportunities for families and young people such as:
The Family Bond. This provides a unique opportunity for families to save money, tax free, for a ten year period. The tax free nature of the Bond means that the Government restricts the amount which may be saved to a maximum of £25 per month (there is also a lower premium of £15) or the annual equivalent, if preferred. Premiums are therefore affordable to most people.
The Junior Bond. The tax free Junior Bond is Family Assurance's best selling children's saving plan. Like the Family Bond, there is a minimum investment term of 10 years. However, investors can set savings aside for a longer period if they choose, perhaps to coincide with the young person's 18th, 21st or 25th birthday. This provides a unique opportunity for parents and relations to save for special milestones such as continuing education, getting a car or even a first home. It is an affordable investment with premiums of £10, £15 or £25 a month or the annual equivalent.
New product development
Organisations must carry out a lot of detailed research before adding to their product portfolio. Family Assurance therefore engaged in research before making the decision to move into 'ethical investment.' A detailed analysis of their database giving extensive statistical information about the Society's members and their lifestyles already existed. This was supported by further investigative research into existing members' views of the organisation e.g. their expectations of Family Assurance and their concerns about savings and investments. The research enabled Family Assurance to build up a detailed picture of their customers' attitudes.
The product
Before committing itself to the new product, Family Assurance needed to understand the scope of the project fully. In particular, the following questions needed answering:
Is the product relevant to the target audience? (particularly to members investing for the young)
Is the 'Offer' relevant to the distribution channel? (could it be sold through Family Assurance's existing sales channels - or would new channels be necessary?)
Does it compete with any existing Family Assurance products?
Does the new product fit with Family Assurance's corporate identity and ethos?
Is the timing right?
What is the competition doing?
What is the expected lifecycle for the product?
What resources need to be committed to the new product? Are they available?
Clearly, this in-depth understanding of a product and the implications of launching it, is relevant to any form of business wanting to move into new product lines. When launching any new product, the key question is: 'Is it feasible?' For this Unit Trust, the key questions were:
How many people are likely to apply for investment into the Unit Trust?
How would they be prepared to pay into this Trust? (e.g. in small instalments or larger lump sums?)
How much would investors be prepared to pay into the Trust?
How long would they want to invest their money for?
As with any other business decision, it is necessary to calculate whether revenues will exceed costs. Family Assurance needed to have a clear idea of how much each policy sold would contribute to the Society's profits. If the sums did not add up, it would have been pointless to go ahead with the new venture.
Making the decision - bringing the product on stream
Family Assurance launched the Children's Ethical Trust to fill an identified gap within the market. Research confirmed that the Society's Junior Bond, was a popular investment product for parents, or grandparents, who wished to invest for newly born or very young children.
In contrast, the product was not as popular with those wishing to invest on behalf of older children. The possible reasons for this are:
If the child is older, perhaps a teenager, the investor may require the proceeds of the investment for a specific purpose, for example, education. The minimum 10 year term of the Junior Bond could make it inappropriate for this specific purpose if the monies were required at an earlier stage.
Some investors may seek a more flexible product for older children, so that they are free to pay the amount they want, when they want. This is not possible with the Junior Bond because its friendly society tax exempt status restricts the amount which may be invested.
So, the need for a product to supplement (but not compete with) the existing Junior Bond was identified. Another significant fact to emerge was the comparatively low number of ethical investment products available, many of which were perceived as producing poor investment performance. Furthermore, it became increasingly obvious that young people and their families had real concerns about environmental issues.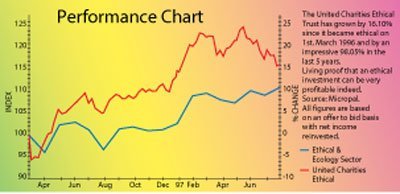 Family Assurance was delighted to be asked to take responsibility for the management of The United Charities' Unit Trust in 1993. In March 1996, it introduced ethical criteria into the Trust's investment strategy. To reflect this element within product 'positioning,' the children's investment was marketed under the brand 'The Children's Ethical Trust.' By identifying the need to provide an investment for its customers' older children; recognising the need for a sound performing ethical trust and bringing these two important requirements together to fill a gap in the market, Family Assurance has provided a new, relevant product for its members.
The United Charities' Ethical Trust is an authorised unit trust. A unit trust is a pooled investment scheme that allows investors to buy shares in a number of different companies. The fund is divided into units. The value of units will fall and rise in line with the individual investments within the fund. Historically, investment in shares has produced excellent long term results. The United Charities' Ethical Trust aims to produce long term growth but will not invest in companies that do not meet established ethical investment criteria.
Ethical investment
Ethics are the moral values and principles which influence how individuals, groups and society behave. Business ethics are therefore the values and principles which operate in the world of business. In business, it is possible to carry out many practices which are not strictly ethical, yet are lawful. However, many successful companies are based on strict ethical principles and most people would argue that business should keep within some form of moral framework.The United Charities' Ethical Trust aims to achieve long-term growth of capital whilst avoiding investments in companies that generate significant turnover from:
alcohol or tobacco
export of goods or services for military uses
supplying ozone depleting chemicals
testing of cosmetics or toiletries on animals
using intensive farming methods
extracting or importing tropical hardwood
trading in prohibited pesticides
activities which significantly pollute waterways;
or who have registered companies in a significant number of countries identified as violating certain human rights.
For the purposes of the United Charities' Ethical Trust, Family Assurance subscribes to the Ethical Investment Research Services (EIRIS) - an independent organisation which researches companies to see if they pass the required criteria. In addition, the existing portfolio is frequently reviewed, along with current ethical and environmental issues. The United Charities' Ethical Trust invests predominantly within the UK and believes that small and medium sized enterprises (SMEs) that meet the ethical criteria will provide excellent potential for growth over the longer term.
'With fund selection, it is important to focus on the future and take a balanced view of how ethical investments will compare. Our belief is that the well-run ethical funds will continue to prosper.' (Source: The Ethos guide to Ethical and Green PEPs.)
Benefiting charities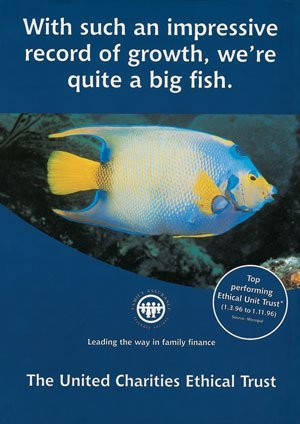 As well as satisfying ethical criteria, some of the profits made from managing the United Charities' Ethical Trust are donated to charity. Family Assurance Friendly Society was the first organisation to convert an existing non-ethical unit trust into an ethical one. Certain difficulties had to be overcome in order to do this. For example, it took several attempts to get the balance right between allowing the fund manager enough companies to choose from, whilst taking as many different ethical considerations into account as possible. An ethical investment fund will never satisfy everyone - the majority of people would oppose the inclusion of companies which test cosmetic products on animals but the distinction is more blurred regarding animal experiments which could advance medical research.
An overwhelming support for change, particularly amongst the younger generation - the investors of the future - was immediately apparent to Family Assurance. According to a recent opinion poll, 40% of people said they would like to invest in ethical banking and pension plans and 35% said they make ethical choices when they shop. (Source: Frost and Sullivan.)
When Family Assurance approached existing unit holders in the United Charities' Ethical Trust, the Society found that 98% of those who expressed an opinion, voted in favour of incorporating new ethical criteria. (Source: Ethical Investments -A Saver's Guide.) The Trust therefore sold some of its existing portfolio of shares and bought new ones. This process was completed in June 1996.
Methods of investing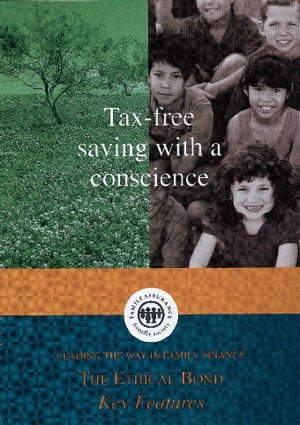 There are two ways to invest in The United Charities' Ethical Trust, either in a Personal Equity Plan (PEP), which will ensure that all returns are completely free of income and capital gains tax, or directly into the Unit Trust itself. It should be noted that PEPs are only available to investors over 18 years old. Investors in the Ethical Personal Equity Plan can make a lump-sum investment of between £500 and the statutory limit of £6,000 in each tax year, or alternatively can contribute regular monthly savings subject to a minimum of £30 per month. All income and capital gains are completely tax-free. (N.B. It may no longer be possible to invest in a PEP after April 1999.)
It is possible to invest a single lump sum from £500, make regular monthly contributions, again from as little as £30, or even combine regular payments and lump-sum investments. There is no maximum amount that can be invested directly into the Unit Trust and it is possible to invest for children.
The new Ethical Unit Trust has clearly been an important step forward for Family Assurance Friendly Society. From the customer's point of view, it provides a sound performing unit trust (required by the investor) and meets the ethical discrimination required by the beneficiary. It therefore sits well with Society's positioning as a caring but professional provider. It also allows low cost and regular contributions - making it competitive. It therefore fulfils the Society's Corporate Mission:
'To put affordable savings and protection policies within the reach of our members.'
Project management is an important business skill. Once the plans for the
Ethical Trust were approved, it was necessary for the Project Manager to
create a detailed plan of action - including:
obtaining legal approval for the new Unit Trust
agreeing a budget and set up costs
preparing a marketing plan including identifying customers from the existing database
deciding on the best way of informing members about the new product e.g. mailshot, member magazine, etc.
establishing a clear schedule with dates and key events and ensuring that everyone involved is fully aware of this schedule
design of promotional literature for the new trust, etc.
Conclusion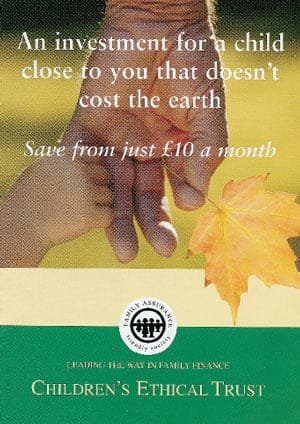 Ethical investment is an area of business life which continues to expand. The first ethical unit trust, Stewardship, was launched by Friends Provident in 1984 and there are now over 40 ethical investment funds in the UK.
Some people are cynical about the development of such initiatives. They feel it is merely a new way for organisations to profit from jumping on a bandwagon. However, there can be no doubt that an increasing number of consumers want to invest ethically. Young people, in particular, are concerned about malpractice and exploitation around the globe. Many people feel that they need to do something practical and positive to encourage business in the direction of sound business ethics and practice. By placing investment with businesses that operate in an ethical way, investors are able to show a positive preference for this style of business practice.
Increasingly, market places are becoming consumer driven. Organisations failing to read the signals sent out by consumers will lose out. Organisations responding to consumers' preferences will flourish. The Society's Ethical Unit Trust will provide a sound, logical response to changing consumer preference. By teaming up with a range of leading charities, Family Assurance Friendly Society has made a sound decision which is both business-like and ethical. What do you think?