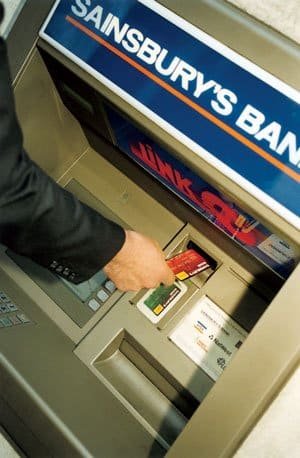 Banking is currently undergoing significant structural change. Large building societies have demutualised. Newcomers, such as supermarkets, are entering the banking market with a growing range of financial products. At the same time, banks are increasingly recognising the attractions of developing new delivery channels and re-engineering traditional channels in order to meet changing customer preferences and improve efficiency and productivity. Many personal customers continue to use their local branch for most of their banking needs, whilst others prefer telephone or PC banking. Business customers need local access to a decision maker who can handle their day-to-day banking requirements.
The last ten years have seen great changes in the ways in which customer needs are met by business organisations. Increasingly, the emphasis is on customer focus - i.e. providing the types of goods and services that customers want, where they want them and when they want them. For example, in the financial sector, bank assurance organisations have developed which provide a full range of financial services for individuals. Customers are able to have all (or most) of their financial needs met by one provider in a user-friendly way.
There has also been the development of 24-hour telephone banking which enables customers to bank from the comfort of their own home. In retailing, the development of multifunctional supermarkets means you can now buy your bread, fruit and vegetables, and at the same time take in your dry cleaning for a same-day service. For today's consumers, time is precious and convenience is placed at a premium. The modern consumer will buy from those outlets that best listen to and then meet their requirements. Most recently, supermarket banking has been introduced.
This case study examines the development of Sainsbury's Bank, which pioneered and developed the concept of supermarket banking in this country. The study shows how the success of the new bank benefited from the input of one of the UK's best established banks - Bank of Scotland.
J. Sainsbury plc has recently further developed its extensive presence in the UK through the setting up of Sainsbury's Bank. In order to do this, J. Sainsbury looked for a partner with the necessary knowledge, and experience in the financial services market. Although a retail organisation such as Sainsbury's could, in theory, set up a bank alone, it made more sense to work with an established financial organisation. As a result, Bank of Scotland was chosen to provide full processing services for Sainsbury's Bank. During 1997 and 1998, Bank of Scotland increased the number of its employees substantially due to its joint venture with J. Sainsbury plc and a strong growth in its direct banking business.

The net effect of the integration process was to create synergy, i.e. a situation in which the sum of two parts is greater than the whole (2 + 2 in this case is greater than 4). The logic of this process is plain to see. Bank of Scotland was able to gain a presence in the retailing world with J. Sainsbury, the second largest supermarket chain in this country. At the same time, Sainsbury's was able to provide a range of financial services for customers including the convenience and ease of access to 24-hour telephone banking.
The advantages of this synergy seem so obvious that it is surprising that it has not happened sooner. For the large retailers, it makes sense to move into a new industry at a time when they are finding it increasingly difficult to grow their core business organically. For example, supermarkets' coverage of Great Britain is so great that they are now encountering difficulties in getting planning permission for new stores. For supermarkets, moving into an entirely new industry makes strategic sense.
On 25th October 1996, J. Sainsbury plc and Bank of Scotland announced they were to launch a joint venture bank in February 1997. The Bank would be 55% owned by J. Sainsbury plc and 45% owned by Bank of Scotland. A joint venture is a partnership which allows businesses to keep their independence at the same time as sharing their expertise. A joint venture means that two organisations work together on a specific project – for example, a washing machine manufacturer and a soap powder producer join together to create a television commercial, or two car manufacturers decide to share the research and development costs of a new engine which they will both later use in a range of models.
Sainsbury's was the first supermarket retailer to form its own bank. It is licensed by the Bank of England, which has the role of ensuring the reliability and financial strength of all banks in this country. Sainsbury's decided to launch the bank following extensive research of its customer base. Sainsbury's is well positioned to offer retail financial services - it has a loyal customer base of some 10 million people who have indicated that they want good, efficient and reliable banking services. The bank is a natural extension to the type of services already offered to Sainsbury's customers.
Bank of Scotland was chosen as the best partner for the joint venture. Combining Sainsbury's retailing and marketing experience and reputation for good value and trust with Bank of Scotland's product range, record of innovation and telebanking experience has resulted in a compelling alternative to traditional banking.
It is not possible to create a nation-wide banking operation overnight. Instead, the best way is to establish a presence and then extend this presence over the course of time to develop a well organised network. Sainsbury's Bank has set itself the task of breaking even within a two year period. The first stage of the launch involved offering a 24-hour direct banking to customers of its supermarkets, hypermarkets and DIY outlets in Scotland and in north and central England. The regional roll-out was carried out to avoid stretching customer service before moving on to open up across the whole of the United Kingdom.
One of the most important business lessons that can be learnt is to avoid the danger of overtrading. Business history is littered with examples of businesses that failed from having tried to extend a good idea too quickly. A business that overtrades can overstretch its resources, leading to poor quality service and collapse. In the case of Sainsbury's Bank, this did not happen.
The launch and expansion of Sainsbury's Bank was founded on the following good business principles:
identify your market
allocate your resources to secure your objectives
build sound networks.
Once you have secured your position, then you can expand.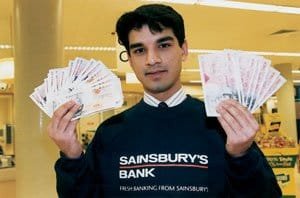 Sainsbury's Bank is based largely on telephone banking and therefore has none of the costs of staffing branches nation-wide. Consequently, the Bank has been able to offer highly competitive rates of interest when compared with more traditional banks. This is important as today's customers are knowledgeable and willing to shop around for the best interest rates.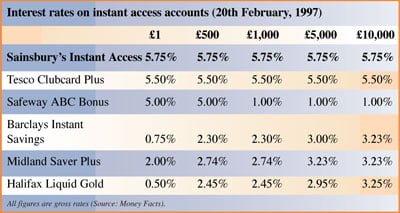 Sainsbury's Bank also has its own cash dispensers. The Bank has 73 of its own cash machines and, customers of Sainsbury's Bank can use their cards in around 14,000 LINK cash machines throughout the UK.
The Bank's approach to promoting and advertising in its early days was to adopt and seek to gain the high ground in direct banking through the 'fresh banking' theme. Sainsbury's Bank is all about service, ease of access, value for money and choice. Sainsbury's supermarkets have a long history of offering value for money to their customers, offering first class service and providing an extensive choice. It was imperative to build on these core qualities in developing new banking products. Moreover, it was possible to emphasise the 'it makes sense' approach to banking at the supermarket.
Today's customers regard time and convenience as being of premium value. A supermarket like Sainsbury's is designed to offer high quality products and the best possible value for money without making you wait to be served. The real skill lay in translating these associations into a banking context.

Customers quickly identified with the new 'fresh banking' from Sainsbury's. Moreover, customers felt secure because of the established presence of Bank of Scotland. What Sainsbury's Bank then needed to do was to roll out a range of products and services which would make it the envy of existing banks.
The attractiveness of the fresh approach was reflected in the statistics, which showed that in just over eight weeks, Sainsbury's Bank had over 100,000 customers with deposits of over £100,000,000.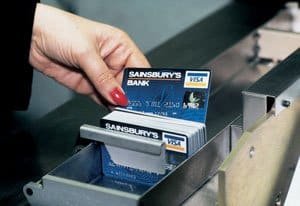 The results from Sainsbury's Bank compare very favourably with those of its main rival Tesco (which set up its banking operation three months after J. Sainsbury plc), with Sainsbury's Bank customers having much higher average balances than Tesco account holders.
The product range now includes:
Instant Access Savings Account, Christmas Saver Account and two Visa credit cards - Classic and Gold - (all launched in February 1997).
Personal Loans were launched in June 1997 with the Optionsª Variable Rate Mortgage introduced in July 1997.
Household Insurance was launched in January 1998 followed by Fixed Rate Mortgages in July 1998,
Pet Insurance and the Merit low interest rate credit card in July 1998.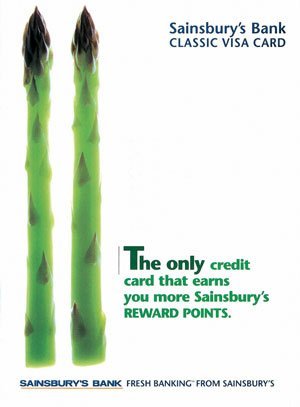 A good example of the way in which customers benefit is through the use of a Classic or Gold Visa Card which are the only two credit cards which earn Sainsbury's Reward Points whenever and wherever a customer uses them. The Sainsbury's Bank Classic Visa card, of course, entitles users to all of the benefits of Visa membership, i.e. they are welcomed at over 13 million outlets around the world and are offered:
up to 50 days interest-free credit
up to £750 discount on package holidays from most ABTA tour operators
cash from bank counters and 270,000 cash dispensers worldwide.
In addition, users are able to:
double their Reward Points at any Sainsbury's, Savacentre store or Sainsbury's petrol station when they use their Classic or Gold Visa Card with their Sainsbury's Reward Card - i.e. an additional Reward Point for every £1 spent
earn one Reward Point for every £1 they spend on their Classic or Gold Visa Card at Homebase
earn one Reward Point for every £2 they spend on their Classic or Gold Visa Card at any other retail outlet.
Each month, Reward Points earned at Sainsbury's Group stores and petrol stations are transferred to the card holder's Reward Points balance. The points can then be exchanged for Reward vouchers which can be spent on a future visit to Sainsbury's, Savacentre or Homebase.