British Aerospace is a world leader in aerospace and defence with annual sales exceeding £8 billion and an order book of more than £22 billion. The Company employs more than 46,000 people in the design, development, manufacture and testing of civil and military aircraft, guided weapon systems, artillery and ammunition, together with other high technology systems and equipment.
Over 80% of its sales are exported to over 70 countries and the Company has collaborative links with 28 major international partnerships, covering more than 50 individual high technology defence and aerospace programmes. British Aerospace's strength lies in its ability to provide total solutions to the most demanding customer requirements on land, at sea and in the air. This case study focuses on one small division of British Aerospace - Asset Management. British Aerospace Asset Management is responsible for the management, sales and leasing of a world-wide portfolio of over 400 regional jet and turboprop airliners.
What is asset management?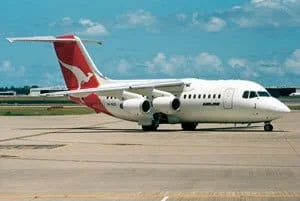 Asset management is the process of making best use of an organisation's assets in order to maximise shareholder value and to provide the best possible returns to other stakeholders in the organisation. All business organisations have a range of assets. These include highly fixed assets, such as buildings and plant equipment, more liquid assets, such as goods in stock, and highly liquid assets, such as cash in hand.
It is important for a business to manage its assets and make them work to obtain the best possible returns. This case study highlights the principles involved in asset management and examines how British Aerospace has set out to manage its existing portfolio of aircraft in order to get the best possible returns from them.
Ineffective asset management leads to wasted resources. Imagine, for example, the case of an airline manufacturer that produced an ongoing stream of aircraft which it stockpiled - hoping that customer orders would eventually materialise. The stored aircraft would yield no revenues and simply incur costs (costs of storage, maintenance, and depreciation).
A cyclical business
The airline business, like most others, is cyclical. In the longer-term, the industry is growing. Average incomes are increasing and more people are using air travel for pleasure and business purposes. However, in the short-term, cyclical factors associated with booms and recession mean that while demand grows for a number of years, there will often be a sudden fall in demand when recession bites. In boom periods new firms enter the air transport business but when the recession sets in, some firms are likely to fail.
The business becomes more competitive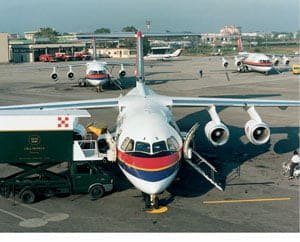 During the 1950s and 1960s, aircraft manufacturers operated in a relatively stable environment. Airlines, such as BOAC and Air France, were largely government-owned and would buy their aircraft outright from the manufacturers, meaning that producers had little financial responsibility for the aircraft once they had been sold.
However, during the 1980s, the environment changed. Airlines were subject to a process of privatisation and many new airlines entered the market. A new era of competition had arrived as customers could now choose which airline to fly with. The newer airlines sought flexibility. They did not want to tie up the assets in their balance sheets in expensive aircraft and they also wanted to have the flexibility to expand, e.g. by trading in a leased 100 seater aircraft for a 200 seater. Rather than buy aircraft they sought to lease (or rent) them.
This new market environment, therefore, created the opportunity for a new form of organisation – leasing companies (owned by financial institutions, often in partnership with aircraft manufacturers). The leasing companies bought the aircraft from the manufacturers and leased them to airlines. However, to make the arrangement work, aircraft manufacturers like British Aerospace, guaranteed the lease payments. If an airline went into liquidation, then British Aerospace would continue the payments to the leasing companies. British Aerospace was typically contracted to guarantee payments to leasing companies for up to 18 years - covering the normal economic life expectancy of an aircraft.
The economic crash of 1992
The Gulf War of 1992 contributed to a major economic downturn which had a profound impact on the leasing arrangements. In the late 1980s and early 1990s, a number of new airlines had taken out short-term leasing contracts for British Aerospace aircraft. When a number of these airlines failed at the same time, and other existing carriers were exercising their options to terminate leases, British Aerospace was confronted with a difficult situation.
British Aerospace was now producing aircraft which it was unable to sell and was having to stockpile. New aircraft off the production line are referred to in the industry as 'white tails' because they have not been painted in the livery of new owners. In addition, a large number of leased aircraft were returned to British Aerospace, some of which were only a few months old. In 1992, British Aerospace had 118 jets and 428 turboprops in its lease portfolio - 30% of these were idle and another 30% under threat.
In terms of asset management, British Aerospace was in a crisis situation. Large amounts of capital were effectively doing nothing. The Company took the dramatic step of making a one billion pound provision in its accounts (the largest in UK corporate history) against the potential liabilities resulting from its obligations to leasing companies. At this time, British Aerospace's share price collapsed to 98p.
Taking steps forward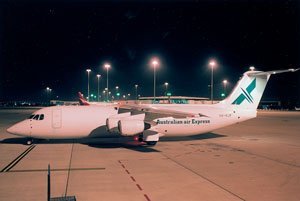 British Aerospace needed to take dramatic steps. It did this by cutting the production rate for new aircraft, shutting down the Company's Hatfield factory and creating a new company which has now become British Aerospace Asset Management. The function of the new company was to manage existing assets effectively in order to maximise growth potential. The new Asset Management business was set up with the following objectives:
To understand fully and to create the means to meet British Aerospace's exposures and obligations.
To create processes and methods to manage the leases and provide the environment for a good business to be achieved.
To create a market strategy to retain aircraft in service, reduce the idle fleet and maximise the use and return from the assets.
In order to meet these business objectives, it was necessary to create a suitable business culture. The new business was to focus on the leasing business, and was to have a small business philosophy with a flat structure and small teams. Team spirit and empowerment were to be fostered in autonomous working groups which were to work to a clearly defined business plan. The new strategy devised for British Aerospace Asset Management was termed 'Three Steps to Heaven'. The three steps were to:
Get the idle fleet back into service
A range of financial lease packages was developed to meet the new market needs, which included short-term deals wherever necessary. Suppliers and vendors were encouraged to provide guaranteed maintenance and overhaul cost packages to these new customers to overcome the poor reputation these aircraft had gained in the market-place. However, there would be no give-away deals that would undermine the fleet's commercial credibility.
Increase the lease rates for aircraft
It was planned to attract new customers who would enter into longer leases at higher rates. The aim was to win the business of established airlines with a high reputation who would be more likely to enter long-term leasing arrangements.
In 1992, British Aerospace's portfolio of leases was characterised by weaker airlines with low credit ratings and small fleets which operated in geographically diverse areas and catered for niche markets. Now, however, the emphasis is on creating leases for five, six and seven years, rather than just for one or two as in the past. Fleet sizes are being increased with quality airlines.
The disposal of assets
When prices recovered (thanks to Steps 1 and 2), the strategy was to sell off the fleet as opportunities arose without negative profit and cash implications. British Aerospace Asset Management has been a great success and since 1992, has turned the fortunes of the fleet around. Staff have worked hard to develop strong working relationships with their customers in order to get to know and understand their needs. Today business is carried out with airlines which have top quality credit ratings and large fleets. The customer base is now concentrated in the world's three most sophisticated air transport markets - North America, with operators including Air Canada and United Airlines, Australia, with Qantas, and Europe, where customers include KLM UK, Aer Lingus and Jersey European Airlines.
The key to the success of the organisation has been in matching the fleet's varying size, age and equipment with different customers' requirements. British Aerospace Asset Management had to develop processes for managing its asset portfolio as efficiently and successfully as possible. It created the lease cycle enabling a smooth throughput of new and ongoing leases.
The lease cycle
At the outset, a new aircraft will be delivered to a customer in line with his specification requirements. Contractual management involves setting out detailed requirements for the way in which the customer will look after the aircraft in service, i.e. maintenance standards to be met and dealing with modifications that the customer may make to the aircraft.
Customer support from British Aerospace or another approved service provider is very important and involves providing the customer with technical advice, spares support and training to enable him to make the most effective use of the aircraft in service. Aircraft redelivery involves managing the return to British Aerospace of the aircraft at the end of its lease to a predefined set of conditions, e.g. the customer will often be obliged to return the aircraft in a similar condition as to when it was delivered, which may involve a period of maintenance and modification.
Lease negotiation means establishing a new lease for the aircraft, e.g. the existing customer may want to extend the period of the lease or alternatively, a new lease may be created with another airline. Specification negotiation involves establishing the way the aircraft will be presented for the new lease, e.g. an airline may require the aircraft to be fitted with a specific seating configuration, additional catering facilities, updated technical equipment etc.
Refurbishment will then be carried out by British Aerospace or a recommended maintenance facility. This is in order to modify the aircraft to meet the requirements of the customer who is taking out the new lease or purchasing the aircraft. The aircraft will then be ready for delivery and entry into service.
Performance indicators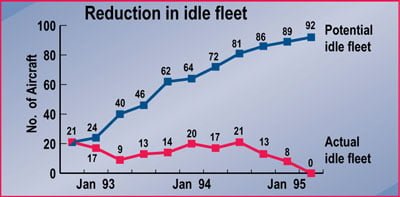 British Aerospace Asset Management has successfully overcome British Aerospace's asset difficulties by a dynamic policy of leasing and selling aircraft. Since 1992 this policy has been a resounding success.
It is always important to measure business success by examining the relevant performance indicators. There are a number of appropriate statistics which highlight the effectiveness of British Aerospace's successful asset management strategy. For example, in 1997:
12 British Aerospace 146 Regional jets were sold for cash - in total worth 105 million US Dollars.
31 British Aerospace 146 lease transactions were signed – worth 185 million US Dollars.
In the five years since its formation, Asset Management has effectively quadrupled the value of each lease by replacing the original short lease terms with average leases of five to seven years.
Conclusion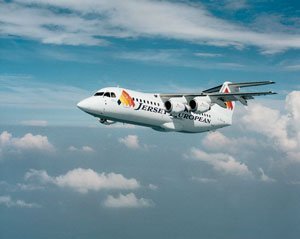 The underlying aim of British Aerospace Asset Management has been to develop long-term links with airlines, rather than to strike the one-off deals of the past. In 1992, British Aerospace recognised the need to rethink its operating methods. British Aerospace Asset Management quickly established a method of reducing its idle fleet to zero and enhancing the reputation of its aircraft to meet the demands of top quality airlines.
By intelligent and creative thinking about asset management, British Aerospace has successfully contained what was a very serious liability for the company. Successful asset management lies at the heart of all modern business organisations. This case study provides an excellent example of how this can be achieved.